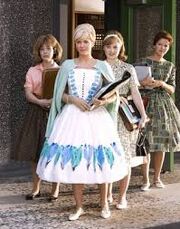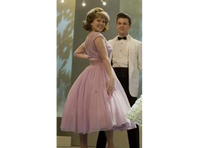 Becky is a member of the Corny Collins Council, She is assumed to be the youngest member as she looks smaller and younger than the others. She also shows signs of immaturity by spraying hairspray onto her little indian doll. She is first seen in this scene in the backstage of the Corny Collins Show Prepping for the start of the show.
Even though Becky is Presumed to be one of the youngest members, she is shown to hang out at school with Amber. When The song "The legend of Miss Baltimore Crabs" is shown, Becky is Dancing with Bix and it's presumed that she might like Bix, except he has no interest in her. It is also shown in her facial expressions that she is open to black rights and integration.
She is portrayed by Tabitha Lupien.
Ad blocker interference detected!
Wikia is a free-to-use site that makes money from advertising. We have a modified experience for viewers using ad blockers

Wikia is not accessible if you've made further modifications. Remove the custom ad blocker rule(s) and the page will load as expected.