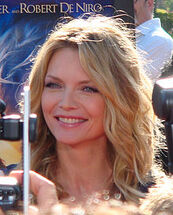 Michelle Marie Pfeiffer (born April 29, 1958) is an American actor and singer. She made her film debut in the 1980 movie, "The Hollywood Knights" and has been seen in many television commercials since then, now you may have seen her in her latest film, "The Family" in 2013. [[Category:Hairspray (2007 film) Characterz
Ad blocker interference detected!
Wikia is a free-to-use site that makes money from advertising. We have a modified experience for viewers using ad blockers

Wikia is not accessible if you've made further modifications. Remove the custom ad blocker rule(s) and the page will load as expected.